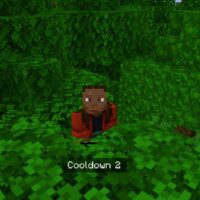 Dash Ability Mod for Minecraft PE
Version MCPE: 1.20.0 - 1.20.32
Download
Download Dash Ability Mod for Minecraft PE: quickly and without any damage, get away from the attacks of any opponents, as well as overcome long distances in a matter of minutes.
What is interesting in Dash Ability Mod?
There are plenty of dangers in the world of Minecraft PE, so the heroes need to think about good equipment and reliable weapons in advance. After all, the enemy can attack absolutely at any moment and then you will need to act very quickly.
It is the speed of movement that is key in the Dash Ability Mod. After receiving a special item, players will be able to avoid the attack of any monster, as well as travel through the cubic world much faster.
 Roll n Stamina
After installing this update for Dash Ability Mod, the mechanics of the player will be completely changed. He will learn to somersault, this ability will be very useful if you need to dodge an enemy attack, and will also allow you to achieve some success in parkour. By the way, properly grouped, it will be possible to avoid losing health when falling from a height.
But the main feature of the update is still the ability to manage endurance. Now Minecraft PE players will have a limited amount of stamina and if it runs out, they will not be able to use their abilities. Fortunately, this process will gradually recover.
Dash Ability
Another update, by installing it the player will be able to move around the territory at an incredible speed. Thanks to such capabilities, you can, for example, get away from the attack in time and not get damaged.
Those Minecraft PE heroes who like to travel will also need these skills because the process of moving will become much faster. To use the Dash Ability Mod, you need to get an item called a Dasher. You can craft it yourself or find it in the Inventory of the Creative Mode.
The control mechanics are as simple as possible: hold it in your hands and tap it.
How do I install this Dash Ability mod?

The file is in .mcaddon extension, so just tap on the file to automatically install the modification.

Can this mod be run in a multiplayer game?

Yes, for this it is enough just to be the owner of the map and install this modification on it.

What if the mod does not work?

Try to activate the experimental game mode.
Download Dash Ability Mod for Minecraft PE