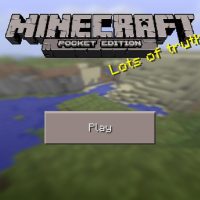 Minecraft PE 0.7.4
Download Minecraft PE 0.7.4
Download
Download Minecraft PE 0.7.4 for free on Android: rate the fixed bugs and improved management system.
What is new in Minecraft 0.7.4?
In Minecraft PE 0.7.4, developers have added a new type of block – these are carved blocks and columns made of quartz. These are construction objects that look quite interesting.  At the moment, these blocks are only available to players in Creative Mode.
There are some new sounds in the game. A quiet enough sound will be heard, for example, when things break down. But if the hero closes or opens the chest, he can hear the creaking quite clearly. It is like the sound of an old creaking tree.
Items
Minecraft 0.7.4 players can create fire. The developers have added whole blocks to the game that can burn objects and even creatures. That is why players should be as careful as possible with fire.
If the hero still caught fire, he can put out the fire with a bucket of water or by dipping into the nearest pond.
In Creative Mode, players have access to irreplaceable items – buckets. In them, they can just collect water, as well as lava or milk.
Summoning Eggs
An unlimited number of creatures can be created by players in Minecraft PE 0.7.4 using summoning eggs. This will be very useful when creating, for example, a farm.
There are 4 types of animals to choose from: chicken, cow, pig, and sheep. In this version, it is only available in the Creative Game Mode.
Technical fixes
Mojang developers continue to improve game processes. This time in Minecraft 0.7.4, the animation of the movement of objects such as the Sun, clouds, and the Moon has been improved.
Fixed errors that occurred in the Realms service. With it, the user can invite friends to join the game in his world.
Fixed a large number of bugs that were noticed in previous versions of the game. All this creates a more thoughtful and realistic game world.
How can Minecraft PE players play in one world in Minecraft PE 0.7.4?

For this, the developers have created a paid Realms service.

What are iron buckets for?

In a bucket you can collect water, lava and cow's milk.

Is it possible to use multiplayer mode?
Download Minecraft PE 0.7.4