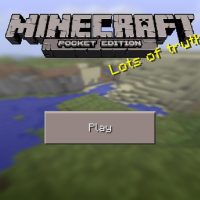 Minecraft PE 0.7.2
Download Minecraft PE 0.7.2
Download
Download Minecraft PE 0.7.2 for free on Android: chat with friends right during the game, use buckets, fire, and spawn eggs!
What is interesting in Minecraft 0.7.2?
In Minecraft PE 0.7.2, Mojang developers have prepared several very important additions for users. First of all, this is the appearance of the nickname of players over his head. This is especially convenient in multiplayer game mode.
After all, the Realms service is now available to players, with the help of which users can unite and play together.
New features
The developers have implemented Unicode encoding support in Minecraft 0.7.2. It allows gamers to use symbols of all world languages in the chat. This will allow users from different countries to communicate freely with each other.
The unique Realms service, which many users have been waiting for since its announcement at Minecone 2012, is also gaining momentum. The multiplayer game mode is complemented by the ability of players to communicate with each other.
All these additions make the game incredibly interesting and exciting.
Useful items
In Minecraft PE 0.7.2, each player is waiting for exciting adventures and discoveries. New items should help him in this. Using a bucket, a hero can collect different liquids, such as water, lava, or even milk.
A unique block appears in this update – it is a cake. Its advantage is that it is divided into parts. It will be possible to use it for food for quite a long time.
But at the same time, the cake is also a full-fledged block. By the way, eggs, sugar, milk, and wheat will be required for its manufacture.
Another innovation can be dangerous if used incorrectly. This is a fire that can set mobs, objects, and hot blocks nearby on fire.
But the worst thing is, that it can cause damage to Steve himself. But if this happens, it is better to find a reservoir as soon as possible, this will help stop the fire.
How can Minecraft PE players play in one world in Minecraft PE 0.7.2?

For this, the developers have created a paid Realms service.

What are iron buckets for?

In a bucket you can collect water, lava and cow's milk.

Is it possible to use multiplayer mode?
download anchor
Download Minecraft PE 0.7.2