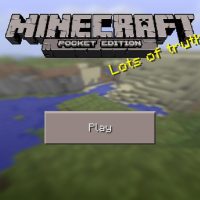 Minecraft PE 0.7.6
Download Minecraft PE 0.7.6
Download
Download Minecraft PE 0.7.6 for free on Android: play with your friends using the Realms service and rate the fixed bugs!
What is interesting in Minecraft 0.7.6?
Mojang developers have done a tremendous job on the bugs that were encountered in previous versions of the game.  Minecraft PE 0.7.6 has a lot of interesting and useful features.
Fixed the Realms function, in which failures occurred when trying to pay for the service.
Also, if the player is unlucky in Survival mode, when reloading, all previously obtained resources will be saved. In previous versions, they disappeared.
Buckets
In the process of creating the world, the hero may need various items that will be useful. And it is not just all kinds of blocks from which a hero can build a house.
In Minecraft 0.7.6, users have the opportunity to create a bucket, this will require 3 iron ingots.
Buckets can be used for different liquids. Steve can collect lava and not be afraid of getting burned. By the way, it will be possible to melt the oven with a bucket of lava.
A hero can also fill a bucket with water or milk. By the way, a player can get milk with the help of a cow.
It is enough to create an animal using the summoning egg, which is in the Inventory.
Fire
With some new features in the game, users should be careful. Fire can not only burn objects or mobs but also cause damage to the player himself.
To stop the fire in Minecraft PE 0.7.6, players can use a bucket of water. The player can also enter the reservoir if he is nearby.
Technical improvements
The developers are trying to create the most convenient and comfortable gameplay. But, of course, it is not always possible to avoid the occurrence of errors. In Minecraft 0.7.6, some of them have been fixed:
invisible chests are no longer created;
fixed most freezes and crashes from the game;
the bow is now displayed correctly in the hero's hand;
inventory will be saved after falling into the void.
How can Minecraft PE players play in one world in Minecraft PE 0.7.6?

For this, the developers have created a paid Realms service.

What are iron buckets for?

In a bucket you can collect water, lava and cow's milk.

Is it possible to use multiplayer mode?
Download Minecraft PE 0.7.6