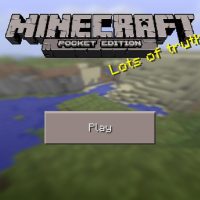 Minecraft PE 0.7.5
Download Minecraft PE 0.7.5
Download
Download Minecraft PE 0.7.5 for free on Android: play on your phone and try the Realms service, as well as the possibility of creating your own server!
What is new in Minecraft 0.7.5?
In Minecraft PE 0.7.5, developers have added the ability for players to create their own servers. It will be useful while playing with friends.
A special section can be seen in the game menu, then the user will need to enter the IP address and port in order to connect to the server.
The possibilities of fire and other items
One of the most anticipated additions to Minecraft 0.7.5 can be called fire. It can destroy various things, objects, and even blocks. By the way, fire can burn users or mobs.
It is possible to stop the spread of the flame with a bucket of water.
Buckets are another useful item that players can use in this update. With their help, the hero can collect liquids, such as water, lava, or milk.
By the way, summoning eggs appear in Minecraft PE 0.7.5. They allow you to create an unlimited number of creatures. It can be a cow, a sheep, a chicken, or a pig.
Realms
The Realms multiplayer game service provides Minecraft 0.7.5 users with the opportunity to unite in one world and play together.
This is a paid opportunity, but only for the player who creates the space. Then he can invite anyone he wants to join it.
For correct operation, it is necessary that all users have a stable Internet connection. Create a new world with friends.
Bug fixes
Mojang developers try to improve their work and fix the errors that have appeared in each update. In Minecraft PE 0.7.5, the problems with the fact that the game crashed after using the reed were eliminated.
A vibration on and off button appeared. Fixed a bug that occurred when trying to collect water or lava in an empty bucket.
All these changes create an atmosphere of fun and carelessness in the cubic world.
How can Minecraft PE players play in one world in Minecraft PE 0.7.5?

For this, the developers have created a paid Realms service.

What are iron buckets for?

In a bucket you can collect water, lava and cow's milk.

Is it possible to use multiplayer mode?
download anchor
Download Minecraft PE 0.7.5