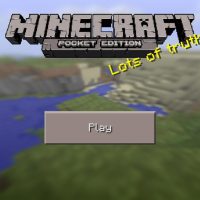 Minecraft PE 0.7.3
Download Minecraft PE 0.7.3
Download
Download Minecraft PE 0.7.3 for free on Android: rate the new useful features in Creative mode!
What is interesting in Minecraft 0.7.3?
Mojang developers are trying to expand the capabilities of players with each update. In Minecraft PE 0.7.3, the creators have added a very important function – this is the cycle of day and night.
Now all users have the opportunity to watch sunrises and sunsets in the cubic world. At night, the moon and stars will appear in the sky, and the bright sun will shine during the day.
This is a very important addition that is sure to appeal to all fans of the cubic world.
Chests
In Minecraft 0.7.3, not just chests appear, they can be made double. This will greatly help in organizing the space, they take up significantly less space on the site.
To create these items, the player will need to craft two blocks, and then simply connect them together. Double chests will be very useful and convenient for all players because the hero can store twice as many things in them.
Other items
Creating your own unique and inimitable world in Minecraft PE 0.7.3 is really very interesting. The game has buckets in which Steve can carry liquid. With the help of summoning eggs, he can create animals, for example, a cow, sheep, pig, or chicken.
But all this takes a lot of energy from Steve. When he needs to refresh himself, it can be done with a cake. This is not just a meal, but a full-fledged block.
The cake is divided into parts, so it will be possible to satisfy hunger for quite a long time. Of course, this nutrient object will need to be created beforehand.
This will require a lot of ingredients: eggs, milk, sugar, and wheat. But the result is worth it.
By the way, milk can be obtained from a cow. It is necessary to approach the animal with a bucket in hand.
Technical updates
The developers have fixed some bugs, making Minecraft 0.7.3 more stable compared to previous versions.
Realms mode, as well as multiplayer chat, allow users to play and chat with friends from all over the world.
How can Minecraft PE players play in one world in Minecraft PE 0.7.3?

For this, the developers have created a paid Realms service.

What are iron buckets for?

In a bucket you can collect water, lava and cow's milk.

Is it possible to use multiplayer mode?
download anchor
Download Minecraft PE 0.7.3