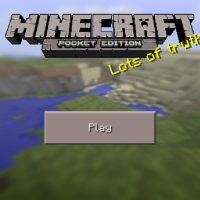 Minecraft PE 0.7.0
Download Minecraft PE 0.7.0
Download
Download Minecraft PE 0.7.0 for free on Android: appreciate the completely changed gameplay and new blocks!
What is new in Minecraft 0.7.0?
Mojang developers have created truly global changes in Minecraft PE 0.7.0. First of all, these are useful items with which the user can diversify the gameplay.
Now you can use iron buckets, you can collect various liquids in them and use them at your discretion in the future.
Also, summoning eggs will be available to all players, with the help of which it will be possible to spawn different animals in Experimental mode.
Items
In Minecraft 0.7.0, flint is available to users. This is a kind of light that can ignite any block. If it is wooden, it will burn. But iron blocks are not afraid of fire.
Another very useful item is iron buckets. They can collect various liquids, such as lava or water. The latter will be convenient to move to the garden, so as not to build it next to reservoirs.
Spawn eggs are also now available in the game. Players can create different animals: cow, pig, chicken, or sheep. By the way, if the hero approaches a cow with a bucket, he can collect milk from her.
In the future, it can be used to make a cake. This is both food and at the same time a full-fledged block in Minecraft PE 0.7.0.
Gameplay
The first thing that players can see after starting the game is the updated menu. In Minecraft 0.7.0, the developers have made it more convenient and added new features.
The player has access to the Play buttons, Realms Mode, and Settings. The latter is now divided into 4 subsections.
Realms
Minecraft PE 0.7.0 players get a multiplayer game mode using the Realms service in this update. The subscription is paid, but thanks to it, the user will be able to invite several people to the game.
This service allows to play with people located anywhere in the world, the most important thing is the availability of a stable Internet.
How can Minecraft PE players play in one world in Minecraft PE 0.7.0?

For this, the developers have created a paid Realms service.

What are iron buckets for?

In a bucket you can collect water, lava and cow's milk.

What mobs can be obtained with the help of summoning eggs?

Summoning eggs can create cow, sheep, chicken and pig.
Download Minecraft PE 0.7.0