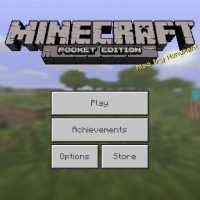 Minecraft PE 0.16.1
Download Minecraft PE 0.16.1
Download
Download Minecraft 0.16.1 for free on Android: explore underwater dungeons, fight with the powerful boss, and use additional items to survive!
What is new in Minecraft PE 0.16.1?
Minecraft PE 0.16.1 Update includes new dungeons, mobs, bosses, and various items, for example, a lighthouse and a Nether star. Changes have appeared even in the interface of the game.
Bosses
There is the boss Wither who appeared for the first time in Minecraft 0.16.1. This dangerous creature is very aggressive and can attack any mob nearby. It is hard to fight Weather, but you can try to kill him underground.
The boss is so strong that he easily breaks obsidian.</p.
New mobs
There are some additional mobs in Minecraft PE 0.16.1. The game now has not only dangerous bosses but also polar bears, and guardians.
The bear is the most neutral of the new creatures. The animal lives in a Winter Biome and does not attack players for no reason.
The Guardians live in the new sea dungeon. They guard the Ocean Monument, where it is difficult to get to without losing health.
Biomes
Ocean Monument consists of several types of blocks, and all of them can be useful to the Minecraft 0.16.1 player. For example, in these places, you can find gold, sponges, and prismarine.
By the way, players can notice the Ocean Monument by a specific glow on the water.
Trading
Another feature of the new Minecraft PE 0.16.1 update is the ability to trade with villagers. Now you can find something you need and get it during the exchange. To start trading, Steve needs to sit down and approach the villager.
Fixed bugs
The Mojang developers have worked on some bugs in the game. As a result, players can see no errors with text in Minecraft 0.16.1. Also, players will not have crashes during the generation of the world.
The team also managed to fix an error that occurred when trying to change the name of the world.
How to find the Ocean Monument?

It is located in the ocean and has a specific glow on the water.

How to summon Wither?

Wither can be summoned by command or use a special totem.

What new abilities do players have?
download anchor
Minecraft PE 0.16.1 Download