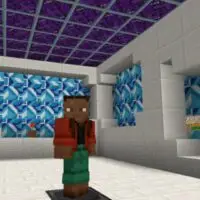 Zombie Waves Map for Minecraft PE
Version MCPE: 1.17.0 - 1.20.32
Download
Download Zombie Waves Map for Minecraft PE: try to survive in dangerous conditions when a lot of dangerous creatures will attack the player in a crowd.
What is interesting in Zombie Waves Map?
The authors of Zombie Waves Map offer players to risk everything and test their strengths. They have prepared several interesting locations where each user will have to fight for his life.
It is worth noting that at these locations for Minecraft PE, participants will find all kinds of equipment and weapons that will help in passing the tests. Invite your brave friends to defeat insidious monsters together.
Zombie Legion
The maximum number of Minecraft PE players who can participate in this challenge at the same time is five. They should take care of reliable armor and a sufficient number of weapons in advance because when the battle begins, there will be no time for it.
The heroes will have to fight off a total of five waves of attacks, each of which will be more dangerous than the previous one, as well as meet bosses. For each victory, participants on Zombie Waves Map receive experience points that will allow them to purchase additional equipment. It is worth noting that after the death, the items available to the player before this are not saved.
Zombobs
The creators of this update for Zombie Waves Map also offer players to fight dangerous monsters. We will have to gather all our strength to withstand such a difficult test.
By the way, it is necessary to constantly improve experience indicators, search for weapons or purchase additional effects in Minecraft PE.
Zombie Waves
The most difficult of all Zombie Waves Map tests is presented at this location. A gloomy place where Minecraft PE players will need to repel two dozen attacks and test their nerves for strength.
The authors provided for the possibility of choosing reliable equipment and weapons before the start of the test, which will certainly help all participants.
How to download Zombie Waves Map?

Tap the file and open it in Minecraft PE.

Can I use this map with my friends?

Yes, the map can be used for a multiplayer game.

Can i use the map in the survival mode?

Yes, the map is suitable for the survival mode.
Download Zombie Waves Map for Minecraft PE