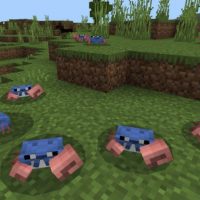 Crab Mod for Minecraft PE
Version MCPE: 1.20.30 - 1.20.32
Download
Download Crab Mod for Minecraft PE: be the first to find out what features and skills one of the contenders has to get into the cubic world.
Crab Mod for Minecraft Bedrock Edition
Every year, the Mojang Studios team holds a general vote on the results of which a new inhabitant appears in the cubic world. The decision is made by the users themselves and it depends only on them what Minecraft PE will be in the future.
Thanks to Mob Vote, players have a real opportunity to influence the world of their favorite game here and now. The first creature announced this year is a sea animal and now the heroes have a real chance to get to know him in Crab Mod.
Main Features
Players can meet this mob in Minecraft Bedrock Edition according to the idea of the authors in mangrove swamps. The crab swims quite fast and attacks other underwater inhabitants.
He can fight with his kind, as well as lose a claw in the process of battle. The player can use it to make potions.
The main feature of this creature in Crab Mod is that it can use this very claw to place blocks further than usual. And this drink will give this ability to the player. The heroes who install this update will be among the first to learn about all the secrets of the animal and see it with their own eyes.
Appearance
As it became known from the announcement of Minecraft Live crabs are quite small in size. Their shell is blue and their claws are red. And one of them is much larger than the other.
By the way, a new possible inhabitant of Minecraft PE in Crab Mod makes characteristic sounds similar to a squeak.
You can meet this little mob, as a rule, underwater, where he feels as free and comfortable as possible. If it so happens that the creature is on land, he will look for a reservoir until he finds and plunges into his habitual habitat.
Be sure to get to know this cute creature right now and make the right choice on the ballot.
How do I install this Crab mod?

The file is in .mcaddon extension, so just tap on the file to automatically install the modification.

Can this mod be run in a multiplayer game?

Yes, for this it is enough just to be the owner of the map and install this modification on it.

What if the mod does not work?

Try to activate the experimental game mode.
Download Crab Mod for Minecraft PE