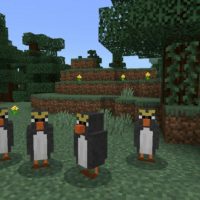 Penguin Mod for Minecraft PE
Version MCPE: 1.8.0 - 1.20.32
Download
Download Penguin Mod for Minecraft PE: Meet unusual creatures that have unique abilities throughout the cubic world.
Penguin Mod for Minecraft Bedrock Edition
Very soon the results of the Minecraft Live user voting will be known and users are already arguing with might and main about who is most worthy of entering the cubic world.
The third and final contender has a quite ordinary appearance for such creatures in the real world. Penguins are very funny and good-natured birds that do not know how to fly, but at the same time swim wonderfully.
The creators of Penguin Mod offer to get acquainted with these cute creatures and learn more about them all Minecraft PE users.
New
This time, the author of Penguin Mod decided to replace one of the permanent inhabitants of the cubic world. Instead of a creeper in Minecraft Bedrock Edition, one of the participants of this year – Mob Vote will appear.
To make friends with him, use raw fish, this delicacy is also suitable for the treatment of the animal. After successful taming, the mob will protect its owner from any threats.
More Penguins
A wide variety of all kinds of these cute creatures will appear in the game right now. At the same time, the authors of Penguin Mod fantasized about what creatures that died out many years ago would look like today.
Now these amazing birds will appear in the snowy areas of Minecraft PE. If you feed two identical individuals, an egg will appear. A small cub will hatch out of it later.
Penguin Mod
The last nominee to get into Minecraft PE this year was a Penguin. Now players will have a difficult process of choosing a mob. The fact is that all creatures are peaceful and will not cause damage to the player.
Penguin Mod allows you to see the animal in the game with your own eyes and learn about all its abilities. Use the spawn egg to create a new inhabitant and start a new adventure story.
How do I install this Penguin mod?

The file is in .mcaddon extension, so just tap on the file to automatically install the modification.

Can this mod be run in a multiplayer game?

Yes, for this it is enough just to be the owner of the map and install this modification on it.

What if the mod does not work?

Try to activate the experimental game mode.
Download Penguin Mod for Minecraft PE