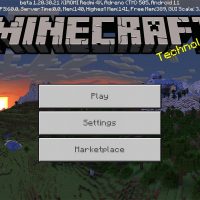 Minecraft PE 1.20.30.21
Trails & Tales Update (Beta)
Download
Download Minecraft 1.20.30.21 for Android Free: get the best enchantments by buying them from librarians, find unusual items for crafting, and visit new villages!
Minecraft 1.20.30.21 Trails & Tales Update
In the Minecraft 1.20.30.21 update, players will be able to appreciate the improved gameplay and the absence of many errors and shortcomings. The behavior of some characters has been improved, and there are even more useful game functions. Archaeological excavations allow you to find unique things, and some mobs can even help with this.
Interestingly, the developers have added a unique kind of village, in which there are no inhabitants.
Archaeological items
To decorate the world with unusual items, Minecraft PE 1.20.30.21 players should go on an archaeological expedition. After they manage to detect blocks of suspicious sand or gravel, the crafters should arm themselves with a special tool. This is a brush that easily cleans blocks.
To create a pot, the player must first look for pottery sherds. These are ancient artifacts, and users will need four of them.
It is worth paying attention, each fragment has a unique pattern.
Trading options
Some villagers are librarians. These characters can share enchantments with Minecraft 1.20.30.21 players. To do this, users need to master trading. Interestingly, the type of enchantment depends on the biome. Therefore, it is worth visiting all kinds of villages.
The interaction of players with wandering traders has also changed: now they have more goods, and prices are lower.
Crawling
To crawl in the virtual world, Minecraft PE 1.20.30.21 players will not have to do anything special. The automatic option is triggered at those moments when it is necessary. Additional animations made the main character even more alive. Another function of this movement is to make Steve less visible to hostile creatures in certain circumstances.
How to get Pitcher Crop?

What can librarians give to the character?

How many pottery sherds are required to craft a pot?
download anchor
Minecraft 1.20.30.21 Download