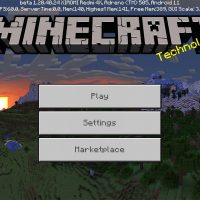 Minecraft PE 1.20.40.24
Download Minecraft version 1.20.40.24 apk free
Download
Download Minecraft 1.20.40.24 for Android Free Trails & Tales Update: Bargain with different villagers and travel around the territory in search of unique locations.

Minecraft 1.20.40.24 Beta: Unblocked Version
The Minecraft PE 1.20.40.24 version features a wide variety of changes in various aspects of the gameplay. First of all, it is worth noting the appearance of new sounds in various mobs and blocks and the correction of existing ones.
Also in MCPE 1.20.40.24, an error was fixed due to which players could see through the bottom of the Boiler. By the way, when falling on loose snow, players will not receive damage regardless of height.
But if it is more than 2 and a half blocks, then the creatures will fall into the snow, even with Leather boots.
Sniffer
You can get acquainted with this unusual character by going to warm biomes where many flowers grow. Sniffer helps Minecraft Bedrock Edition players find seeds of very rare and even outlandish plants.
By the way, in Minecraft version 1.20.40.24, you can grow it yourself, it is enough to find a red-green egg. They are often found in Suspicious Blocks. After that, place the egg on the moss block, so the baby will hatch twice as fast.
Rare flowers
After the Minecraft 1.20.40.24 player grows his Sniffer, it will be possible to start searching for very rare plants with him. Of course, the mob finds only seeds, but it is possible to grow outlandish flowers from them.
They are called Torchflower and Pitcher and in Minecraft Pocket Edition 1.20.40.24 have several stages of growth. By the way, the first one is also used to tame the Sniffer. Heroes can also use them to produce dyes.
Interior items
The developers of Mojang Studios do not very often delight the players with the appearance of items for home decoration. They all have a practical purpose: for sleeping or storing items.
But in Minecraft PE 1.20.40.24, heroes can create an old clay vase. You can collect it from the fragments found at the excavations:
go to the desert in Minecraft version 1.20.40.24;
find the excavation site;
use the Brush to get artifacts.
Which plants are used to tame the Sniffer in MCPE 1.20.40.24?

What does the Sniffer eat in Minecraft PE 1.20.40.24?

What are templates used for?
Minecraft 1.20.40.24 Download