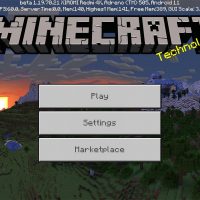 Minecraft PE 1.19.70.21
Download Minecraft PE 1.19
Download
Download Minecraft PE 1.19.70.21 with a working Xbox Live: Travel the vast world to find new materials for construction or to meet unique creatures.
What is new in Minecraft 1.19.70.21?
The appearance of each update is eagerly awaited by all users of the cubic world. This time, the developers have prepared a lot of fixes for the players that will help make the gameplay more interesting and stable.
For example, in Minecraft PE 1.19.70.21, when squatting, the player will occupy a space of 1.5 blocks and if there is not enough space above him, he will remain in this position until he moves to a more spacious place.
New features
The survival process allows users to show their best abilities and skills in a wide variety of areas. One of them is construction and Minecraft 1.19.70.21 provides all kinds of materials for this.
Among them, the appearance of bamboo can be distinguished. This plant was previously available in the game, but only as food for animals. Now, this raw material is perfect for creating various buildings, rafts, and even some items.
For example, improved Hanging Signs or Chiseled Bookshelves, will become a real decoration of any space.
Camels
Along with horses that have been used for riding for a long time, camels can become even more useful in the process of survival. The fact is that their considerable size allows these creatures to overcome various obstacles.
In addition, the player will be at a sufficient height so that monsters such as zombies and others could not injure him. Minecraft PE 1.19.70.21 features both adults and cubs of these mounts.
 Other changes
In Minecraft PE 1.19.70.21, players who breed horses can get individuals of different breeds.  In addition, when moving away from such an object as a Note Block, the sound will disappear gradually.
If the bell is hooked to other blocks, it will not break when they are destroyed.
Which animal is great for traveling in Minecraft 1.19.70.21?

What new raw materials can be used in construction in MCPE 1.19.70.21?

What is bamboo used for?

For building buildings, creating objects and rafts.
download anchor
Download Minecraft PE 1.19.70.21