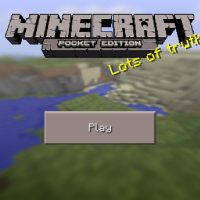 Minecraft PE 0.9.5
Download Minecraft PE 0.9.5
Download
Download Minecraft PE 0.9.5 for free on Android: explore new biomes, tame animals, and appreciate the updated generation of the game!
What is new in Minecraft 0.9.5?
Developers have added in the Minecraft PE 0.9.5 version a large amount of interesting and useful content. Previously unseen mobs and villagers appear in the game.
Improvements also affected the gameplay: when there is an opportunity to interact with a mob, the corresponding button appears on the screen.
There is an opportunity to choose the type of generation at the time of the creation of the world. By the way, the drawing range has increased to 15 chunks.
The corresponding changes can be made in the settings.
Mobs
Previous versions did not differ in a large number of creatures, in Minecraft 0.9.5 their number will increase. Now the player can meet slugs. They spawn underground or in swamps during the full moon.
Another of the new creatures is a Mushroom Cow, it is red and covered with fly agarics. You can meet her on Mushroom Island.
Another mob is the Enderman. He looks creepy, has a black color and if the player looks into his eyes, he can attack.
Biomes
More biomes are available to the player in the Minecraft PE 0.9.5 update. The world has become endless and this has made the game incredibly exciting and interesting.
One of the new biomes that Steve can meet in Savannah. This is an area where it rarely rains. The surface is covered with yellow grass, and acacias grow around.
Another interesting place is Mushroom Island. It is very hard to find, but it looks very interesting. Purple grass and giant mushrooms grow here.
By the way, there was one rather dangerous place. This is a spawner where evil mobs are constantly spawning.
Villages
Another addition that makes the game in Minecraft 0.9.5 very exciting is the appearance of villages. These are clusters of small houses where locals live. The player can protect them from evil zombies that will attack villages at night.
What is the peculiarity of infinite world?

An infinite map will not limit the player in space.

How to make the world infinite?

Change settings when creating a world.

Is it possible to use multiplayer mode?
Download Minecraft PE 0.9.5