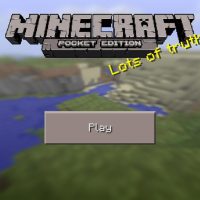 Minecraft PE 0.9.4
Download Minecraft PE 0.9.4
Download
Download Minecraft PE 0.9.4 for free on Android: exciting adventures, incredible mobs, and interesting locations are waiting in the game!
What is new in Minecraft 0.9.4?
There are many bugs that Mojang developers have fixed in this version of the popular game. In Minecraft PE 0.9.4, the pause function becomes available.
It occurs when the player switches between applications or opens the main screen. Also, this menu will be available, when the player returns to the game after locking the device.
Mobs
In almost every version of the game, new creatures appear or existing ones change. This is very important because it is impossible to imagine a cubic world without a variety of mobs.
They allow the game to be more unpredictable, give new opportunities, and simply create a wonderful atmosphere.
In Minecraft 0.9.4, players still get in the way of various creatures. Some of which are worth being wary of, for example, the Wanderer of the Edge. Others can become loyal companions and protectors.
If a player offers a few bones to a wolf, they will tame and protect their master.
Generation
The endless world of Minecraft PE 0.9.4 is supplemented with small settlements – villages. The player can meet local residents there and sometimes find valuable things.
Corrections
This Minecraft 0.9.4 update fixes all the bugs that occurred in the previous version.
The game no longer crashes when the device is locked. Some chunks that were not loaded earlier are now working correctly. Players now have the opportunity to put a range greater than 3.
The developers have also paid attention to minor errors. The gameplay becomes more stable.
There is no need to worry that the game may be interrupted. Thanks to this, players can fully immerse themselves in the endless world of their favorite game!
What is the peculiarity of infinite world?

An infinite map will not limit the player in space.

How to make the world infinite?

Change settings when creating a world.

Is it possible to use multiplayer mode?
download anchor
Download Minecraft PE 0.9.4