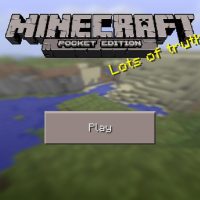 Minecraft PE 0.9.2
Download Minecraft PE 0.9.2
Download
Download Minecraft PE 0.9.2 for free on Android: visit the updated world and rate the fixed bugs!
What is new in Minecraft 0.9.2?
Developers have paid special attention to correcting common errors in this update for Minecraft PE 0.9.2. Indeed, in previous versions, players often encountered the fact that the game was unstable.
This greatly affected the gameplay, some functions did not work correctly. Mojang developers have tried to fix all these tasks in the new version of the popular game.
Main Features
It is extremely important for each player that the game process is interesting and exciting. Minecraft 0.9.2 copes with this perfectly, because here anyone can show their abilities to the fullest. Naturally, if some technical problems interfere with achieving the goal, it can be very frustrating.
By the way, in this version, the number of mobs has decreased. But do not get upset, because at the same time they have more health, which means that the game becomes even more interesting.
Players get a unique opportunity to build their own world in which there will be no restrictions.
Error correction
As mentioned earlier in Minecraft PE 0.9.2, the developers paid special attention to the elimination of common errors:
grass color has become more realistic;
biomes have been reinstalled in order to prevent crashes in the game;
creepers no longer explode after death;
spiders no longer get stuck on trees and ceilings;
added a warning when creating an infinite world on weak devices;
when the player finds a fortress, the world will no longer reboot.
Also, if the world was damaged earlier, the game will attempt it before the game starts. This update will allow you to truly enjoy your favorite game. The world is becoming more stable and diverse.
The gameplay will definitely be remembered for incredible adventures and interesting discoveries.
What innovations are implemented in Minecraft PE 0.9.2?

Fixed a large number of bugs.

How to make the world infinite?

Change settings when creating a world.

Is it possible to use multiplayer mode?
download anchor
Download Minecraft 0.9.2