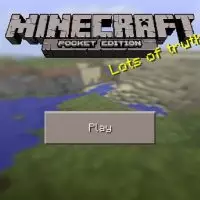 Minecraft PE 0.8.0
Download Minecraft PE 0.8.0
Download
Download Minecraft PE 0.8.0 for free on Android: use the possibilities of gardening and breeding animals, as well as rate the new blocks!
What is Minecraft 0.8.0 add?
Mojang developers have prepared a really large-scale update for all fans of the game. In Minecraft PE 0.8.0, the possibility of growing plants is implemented. Now each player can create their own food.
By the way, the settings system has been significantly improved and textures have been improved. The gameplay is updated and constantly supplemented with interesting features.
Reproduction
In Minecraft 0.8.0, the mechanics of animal reproduction appear for the first time. It is enough to find two identical individuals and feed them. In a few seconds, they will have a cub.
Interestingly, offspring can be not only peaceful mobs but also undead.
Gardening
To get full-fledged plants, a player in Minecraft PE 0.8.0 will have to work hard, but it is worth it. First, sprouts will appear from the seeds.
It is better to immediately stock up on a hoe and a bucket of water, this will be extremely useful for getting a good result.
Fire
In order to expand the possibilities of the gameplay in Minecraft 0.8.0, a bonfire has been added. To create it, a player will need an iron ingot and flint.
Unfortunately, like other items, the flint can break over time.
New blocks
All users have been waiting for the appearance of new types of blocks in the game for a long time. In Minecraft PE 0.8.0, boards are made of birch, spruce, and jungle wood. Slabs and steps will also appear from these materials.
For all those who like not only to build functional buildings but also to decorate their home, the developers have added some elements. First of all, there are 16 carpet options, as well as haystacks, coal blocks, and even lanterns.
All this will help to create a really unusual and interesting world. Own space, where there will be a lot of unique objects.
What are the innovations in Minecraft PE 0.8.0?

In this version, the developers have added new blocks, animal reproduction and expanded gardening.

What do you need for gardening?

This will require a hoe, seeds or tubers of plants, as well as a water source.

Is it possible to use multiplayer mode?
Download Minecraft PE 0.8.0