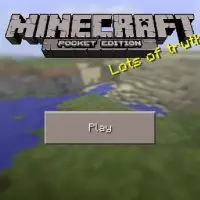 Minecraft PE 0.8.1
Download Minecraft PE 0.8.1
Download
Download Minecraft PE 0.8.1 for free on Android: use a compass to navigate the terrain, and try rails and clocks.
What is new in Minecraft 0.8.1?
The creators have tried to fix all the errors that occurred in previous versions. In Minecraft PE 0.8.1, the artificial intelligence system of mobs has been improved. Also, zombie pigmen will no longer take damage in daylight.
The texture of charcoal has changed, now it will look more realistic. New textures bring the necessary changes to the game.
For greater realism, the developers have significantly worked out the graphic component of the game.
Compass and Watch
New items with each update provide users with more opportunities in the gameplay. In Minecraft 0.8.1, players can use a compass to navigate in space.
The item can be created independently from red dust and ingots, and also bought from a merchant.
Another useful object is a clock. As in real life, this subject is used to determine the time.
It is important that both the compass and the clock will not work in the Lower World.
Rails
In order to create rails in Minecraft PE 0.8.1, you will need six iron ingots and a stick. In addition to the usual players can also create electric rails.
On top of these blocks, the hero can place trolleys, and it is they who will move loads along the constructed road.
Create your own, unlike other worlds. Let the adventures be endless.
Blocks
To expand the decorative features in Minecraft 0.8.1, developers have added elements such as:
colored carpets;
new types of wood, as well as slabs and steps made of it;
coal block, useful for decorating cards.
By the way, haystacks, lanterns, and iron fences are available. All these elements will help players create a unique and amazing world in which the hero is waiting for incredible and exciting adventures.
What are the innovations in Minecraft PE 0.8.1?

In this version, the developers have added new blocks, animal reproduction and expanded gardening.

What do you need for gardening?

This will require a hoe, seeds or tubers of plants, as well as a water source.

Is it possible to use multiplayer mode?
Download Minecraft PE 0.8.1