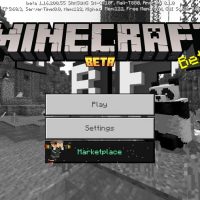 Minecraft PE 1.16.200.55
Xbox Live
Download
Download Minecraft 1.16.200.55 Nether Update for free on Android: more goat improvements, powder snow features, and optimization.
What is new in MCPE 1.16.200.55?
Mojang Studios is doing its best to deliver the most outstanding and pleasing gameplay you can have in Minecraft PE 1.16.200.55.
For instance, there was a hilarious bug when Pillagers tried to hide from sunlight despite not being undead. This misbehavior has been fixed in the latest update and shall appear no more.
Enhancements
Furthermore, MCPE 1.16.200.55 also had dealt with the issue when Vertical Knockback was too weak it merely felt. It was a critical problem for iron golems whose overall damage relied on it.
On the other hand, prankish mountain goats have changed a bit too. They no longer jump on magma blocks that damaged them and other mobs.
Plus, baby goats will keep up their parents no more since they cannot bounce as high as they do. It was bizarre at this point before Minecraft PE 1.16.200.55 came out.
Moreover, mountain goats attack other mobs and players less frequently and eagerly. Their somewhat hostile behavior was a code mistake that ended up with numerous users' deaths.
It turns out the butting knockback is so robust it can push you off the cliff in no time in MCPE 1.16.200.55.
Powder Snow
On the other hand, this update has powder snow, another deadly block that acts like a cobweb. It is not stable, and thence you fall through it.
And what lies beneath it may be perilous and even lethal for unwary Minecraft PE 1.16.200.55 users. However, you can change sides and start using powder snow in your goals.
For example, one may place it all around one's house to protect it from unwanted zombies and other hateful creatures.
At the same time, you know how to deal with this tricky block. It seems wearing leather boots prevents users from falling in MCPE 1.16.200.55.
Where do I find goats in MCPE 1.16.200.55?

These intricate mobs inhabit mountains.

Why would I need a bucket of powder snow?

You may use it in your buildings.

Does powder snow reduce the fall damage?

Yes, it does act like water.
download anchor
Download Minecraft 1.16.200.55