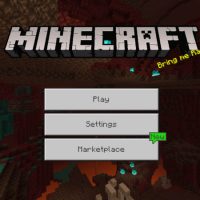 Minecraft PE 1.16.100.57
Download Minecraft PE 1.16.100.57
Download
Download Minecraft PE 1.16.100.57 full version: minor fixes, new mobs, and even broken portals!
Minecraft PE 1.16.100.57 – What's new?
The Nether Update is one of the most global updates in MCPE's history. So it is not surprising that there are many errors in this upgrade.
Developers at Mojang Studios continue to correct them actively. At Minecraft 1.16.100.57, they fixed most of the errors.
Mobs
While in Hell World in Minecraft PE 1.16.100.57, the player can meet mobs such as striders. It is a player-neutral creature and it can be tamed. Strider can walk on lava, so this way, the user can cross lava lakes. Strider is the only tamed creature in the Nether.
Besides that, the Nether is now full of giant creatures, the Zoglins. You can kill them to get meat quickly roasted at stake.
Errors and changes
Apart from adding new mobs, there are some changes to Minecraft 1.16.100.57.  Also, now there is no mistake prevents farmers from harvesting their crops.
Mojang Studios also eliminated most of the other annoying bugs that prevented players from enjoying the game.
Blocks
A revival anchor deserves special attention among the new blocks in Minecraft PE 1.16.100.57. Because this block allows you to set a point of rebirth right in the Infernal World, to do that, you have to set an anchor of respawning on the ground. Then activate it with glow stones.
The Respawn Anchor explodes in the ordinary world as a bed in the Nether. Therefore it can only be used in the Nether
Broken portal
One of the new structures in Minecraft 1.16.100.57 is the destroyed portal. Next to this portal, you can always find a chest with valuable things. Less often, there is a gold block.
It is in the destroyed portal that the crying obsidian is naturally generated.
With the /locate ruinedportal command, you can speed up the search for the portal.
Who are the Piglins in MCPE?

It's a neutral mob of hell armed with a crossbow or a golden sword.

How do I tame a strider in Minecraft PE?

You have to lure it with a distorted mushroom and then put on a saddle.

How to trade with piglins?

You need to give a pyglin gold bullion, then he'll give you a random object.
download anchor
Download Minecraft 1.16.100.57