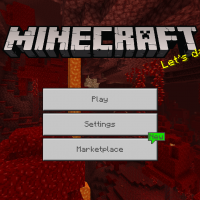 Minecraft PE 1.16.100.53
Download Minecraft PE 1.16.100.53
Download
Download Minecraft PE 1.16.100.53 full version: new Nether World with huge mobs and unique items!
Minecraft PE 1.16.100.53 – What's new?
In the new upgrade of Minecraft PE 1.16.100.53, developers from Mojang Studios added some exciting innovations. Besides, they haven't forgotten the mistakes. Despite the low number of changes, this version still introduced some important updates
Strider
The rather interesting and neutral mob appeared with the release of Minecraft 1.16.100.53. Its peculiarity is that it can be tamed.
You can sit on tamed Strider and ride on lava. Another advantage of Strider is his ability to walk on lava. Notably, Strider's head turns red while on the lava. Outside the lava, his head takes on a purple color.
It is worth noting that Strider is the only Minecraft Bedrock version of 1.16.100.53 to be tamed throughout the Nether.
Bastion remnants
Minecraft PE 1.16.100.53 is an interesting structure, which is a huge structure. The bastion remnants contain many different rooms with caches of valuable resources. There is also a treasure trove.
But you have to be careful when you touch the chest because brutal piglets guard them. It's a more violent kind of regular piglin, and they're not distracted by gold. So the user has no choice but to fight them.
The brute piglins have the highest number of lives among all inhabitants in Minecraft 1.16.100.53.
Netherite
In Minecraft PE 1.16.100.53, the diamond ceased to be the hardest material. It was replaced by a completely new alloy, the Netherite. Things from the netherite do not burn in lava and are resistant to this liquid.
To get Neotherite in Minecraft 1.16.100.53, it is first necessary to mine the ore of ancient ruins. After this ore is melted, the player will receive a netherite scrap. You can get a netherite ingot by combining this netherite scrap with the gold bullion.
Who are the Piglins in MCPE?

It's a neutral mob of hell armed with a crossbow or a golden sword.

How do I tame a strider in Minecraft PE?

You have to lure it with a distorted mushroom and then put on a saddle.

How to trade with piglins?

You need to give a pyglin gold bullion, then he'll give you a random object.
download anchor
Download Minecraft PE 1.16.100.53