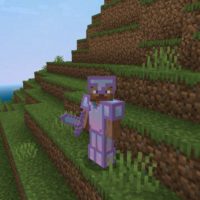 Vaporwave Texture Pack for Minecraft PE
Version MCPE: 1.18.0 - 1.20.41
Download
Download Vaporwave Texture Pack for Minecraft PE: add more new colors to the familiar look of objects and tools.
What is new in Vaporwave Texture Pack?
Vaporwave is one of the genres of electronic music, but its visual aesthetics have become even more popular. That is why the developers of Vaporwave Texture Pack have created this wonderful update for all Minecraft PE users.
The whole cubic world will be painted in purple and blue shades, it looks very cute and funny. The authors even changed the color of the buttons and menus in order to create a more fulfilling atmosphere in the game space.
Change the usual things, making them different from what they were before.
Graphics
The first thing the player will notice in the Inventory is that the color of the diamond armor, weapons, and tools has been completely changed. Pleasant shades of blue and lilac look great and look really unusual.
Thanks to Vaporwave Texture Pack, familiar items in Minecraft PE will sparkle with new colors and shades. All the elements are drawn in great detail, creating a very pleasant and calm atmosphere.
Every user is now available to create his own space in the game using new items, just install this update.
Main Features
Many Minecraft PE players often think about changing some elements in the cubic world. Add novelty and a fresh mood.
Bright colors and major changes may not appeal to everyone, so the authors of the Vaporwave Texture Pack used delicate shades of blue and lilac.
The colors of some blocks, weapons, and armor have changed. Interestingly, even a shovel in the Inventory will now have a pleasant purple hue.
At the same time, the basic functionality remains unchanged and the game space also remains recognizable. This is very important because all users like the original look of the cubic world.
How to install these textures?

Download and open it in Minecraft PE.

Can I use it on servers?

Yes, you are free to use it on public servers.

Can this texture pack be run in a multiplayer game?

Yes, for this it is enough just to be the owner of the card and install this modification on it.
Download Vaporwave Texture Pack for Minecraft PE