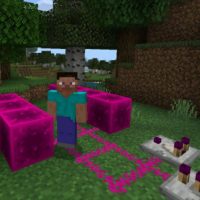 Redstone Texture Pack for Minecraft PE
Version MCPE: 1.2.0 - 1.19.83
Download
Download Redstone Texture Pack for Minecraft PE: completely change the color of familiar objects or make them invisible.
What is new in Redstone Texture Pack?
Every Minecraft PE user has thought at least once that it would be nice to change something in the game. At the same time, the very essence of objects and things can remain the same, because the developers are so diligently developing each of them.
The creators of the Redstone Texture Pack have figured out how to solve this problem. They replaced the usual color of blocks mechanisms with a completely different shade.
But that is not all, also in this update, some items will become invisible altogether, in order for the construction to reach a whole new level
Custom
In order to highlight objects against the background of other blocks, this update for the Redstone Texture Pack was created. Now familiar objects will become brighter, will highlight, and will definitely give a special atmosphere to the gameplay.
Players are offered two options to choose from: yellow and pink. You can choose any of them, install and enjoy a completely unusual kinds of mechanisms and blocks.
The comparator, repeater, blocks, ore, and torch will change their color. Now users decide for themselves how the items will look in Minecraft PE.
Invisible
Changing the color of the blocks is, of course, very interesting. But now players have an even grander opportunity – to make these items completely invisible.
This feature will be useful for those players who want to build invisible objects or just surprise friends who will definitely be delighted with objects moving along invisible rails.
Minecraft PE users get truly limitless opportunities with the help of an update for the Redstone Texture Pack. Players can build, design, and surprise friends with unusual mechanisms.
Can this texture pack be run in a multiplayer game?

Yes, for this it is enough just to be the owner of the card and install this modification on it.

Can I use it on servers?

Yes, you are free to use it on public servers.

How to install these textures?

Download and open it in Minecraft PE.
Download Redstone Texture Pack for Minecraft PE