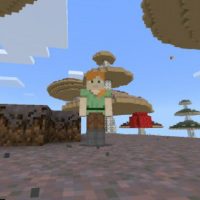 Mushroom Survival Map for Minecraft PE
Version MCPE: 1.11.0 - 1.19.63
Download
Download Mushroom Survival Map for Minecraft PE: go to a very unusual location where players will meet giant plants and will be able to use their resources.
What is interesting in Mushroom Survival Map?
The authors of Mushroom Survival Map have created an, unlike anything else space. As soon as a Minecraft PE player enters a new world, huge plants catch the eye.
They are similar to fly agaric and other variants of mushrooms. All resources of this plants users can used in the process of survival. The update is perfect for those players who want to try something new and interesting.
The space has an incredibly interesting atmosphere, where users can create interesting objects.
Main Features
It is worth noting that the developers of Mushroom Survival Map have very well-selected textures from which they have created huge plants. For example, their legs are made of birch and are very similar to their appearance in reality.
Minecraft PE players will not find iron mushrooms on the island. All minerals will need to be mined underground as usual. Also, this location is great for medium-difficulty survival mode.
The hero will be able to find everything necessary to comfortably exist in such an unusual and interesting place. Explore a very unusual space where players will want to stay for a long time.
Graphics
Mushroom Survival Map features a pleasant color scheme and unobtrusive gameplay. The graphics are characterized by smooth textures. Also it perfectly combined colors.
Huge plants look very organic in the world of Minecraft PE and create an unusual atmosphere. In such a space, even the process of survival will seem quite simple due to convenience.
Huge mushrooms, which are the hallmark of this location, consist of various materials that will be quite convenient for players to extract and use in the future for construction or other purposes.
How to download Mushroom Survival Map?

Tap the file and open it in Minecraft PE.

Can I use this map with my friends?

Yes, the map can be used for a multiplayer game.

Can i use the map in the survival mode?

Yes, the map is suitable for the survival mode.
Download Mushroom Survival Map for Minecraft PE