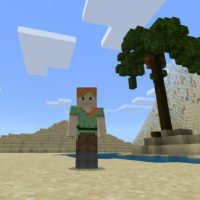 Desert Survival Map for Minecraft PE
Version MCPE: 1.12.0 - 1.20.31
Download
Download Desert Survival Map for Minecraft PE: embark on a very difficult journey where the player will have to survive in a completely deserted area.
What is interesting in Desert Survival Map?
The process of survival in Minecraft PE is not initially supposed to be an easy and simple occupation. And with Desert Survival Map it will become even more difficult. The fact is that the player will find himself in a deserted location, where he will be surrounded by endless sands.
Only the most experienced and courageous heroes will be able to cope with the task in conditions of limited resources. Embark on your most incredible adventure and try to stay alive.
Desert area
This location is already the third release of a large–scale series of updates in which players have one main task – to stay alive using extremely limited resources. At the same time, in Desert Survival Map, the hero is also on the island.
Minecraft PE players will find themselves in an absolutely deserted area where there are no living creatures and the search for food can be a very difficult test. If successful, they will be able to get to other locations.
New dangers
The authors of Desert Survival Map managed to perfectly create a deserted and desolate area. Here you can find huge trees similar to palm trees and baobabs. By the way, their fruits may be suitable for eating, although it will be extremely difficult to get to them.
Dangerous adventures have always attracted researchers precisely for their difficulties. Considering that the island the player lands on is surrounded by water, you can try to look for food underwater or by building a fishing rod to fish.
Only the smartest Minecraft PE heroes will be able to cope with all the difficulties and get out of this dangerous place. To extract useful resources and survive in very difficult conditions is really a very interesting and exciting adventure.
How to download Desert Survival Map?

Tap the file and open it in Minecraft PE.

Can I use this map with my friends?

Yes, the map can be used for a multiplayer game.

Can i use the map in the survival mode?

Yes, the map is suitable for the survival mode.
download anchor
Download Desert Survival Map for Minecraft PE