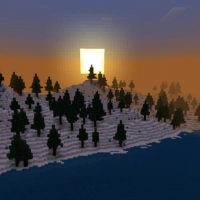 Frozen Survival Map for Minecraft PE
Version MCPE: 1.17.0 - 1.20.15
Download
Download Frozen Survival Map for Minecraft PE: snow-capped mountains and unique trees will meet the way of researchers, and the harsh climate will be a real test for them.
What is interesting in Frozen  Survival Map?
Minecraft PE players will have to try to survive in conditions of constant cold when there are no living creatures around, but only snowy expanses. The fact is that Frozen Survival Map is a location where constant cold reigns and all resources will have to be extracted with great difficulty.
But this is the whole interest of this update, because the more difficult the test, the more joy its passage will bring. The heroes will have to look for ways to feed themselves. At the same time, the surrounding space looks impressive.
Trees whose textures are not found anywhere else, as well as snow-capped mountains, create an incredible atmosphere in the cubic world.
New difficulties
Given that the player finds himself in a snowy area, users should not expect that they will be able to find a chicken or a cow to quench hunger and thirst. There are practically no animals in this area. To find food, it is worth going to the sea, on the shore of which you can find fish.
Frozen Survival Map is also distinguished by the presence of a large number of underground resources. But Minecraft PE players should be very careful in the process of their search because they can meet terrible monsters underground.
Graphics
It is worth noting that the developers of Frozen Survival Map have created a unique terrain, unlike any of the biomes of Minecraft PE. The heroes will be able to see with their own eyes the unique trees that grow everywhere.
The update features beautiful graphics and a change of time of day. Researchers will see a lot of mountains and will be able to find food on the seashore. Go on a journey and be sure to find a way to cope with all the difficulties.
How to download Frozen Survival map?

Tap the file and open it in Minecraft PE.

Can I use this map with my friends?

Yes, the map can be used for a multiplayer game.

Can i use the map in the survival mode?

Yes, the map is suitable for the survival mode.
download anchor
Download Frozen Survival Map for Minecraft PE