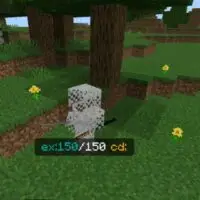 Dual Wield Mod for Minecraft PE
Version MCPE: 1.17.0 - 1.20.41
Download
Download Dual Wield Mod for Minecraft PE: try on and use new types of armor during the battle, as well as surprise your opponents with cool new weapons.
Dual Wield Mod for Minecraft Bedrock Edition
To make the battle with any opponents more spectacular, and the Minecraft PE player was completely confident of his victory, the authors suggest using Dual Wield Mod. Now each hero will have the opportunity to hold a weapon in both hands and thus increase the damage inflicted on the enemy.
Thus, this creates additional chances to win, and players can choose from a large list of various swords and firearms.
3D Combat
This update for Dual Wield Mod will help players make the battle process very interesting. The fact is that in the arsenal of Minecraft PE heroes there will now be new types of weapons that use both hands at once.
Among the existing options that are presented in the update, the most effective is the katana. Ancient Japanese weapons in the cubic world inflict heavy damage on the enemy. The same characteristics are possessed by a long spear, which copes especially well with the task if the player is riding a horse.
A long sword allows you to attack in jerks, and a dagger will add a stealth function.
Offhand Anything
This time, the authors of the Dual Wield Mod also added the ability to use both hands during combat and in other hero activities. This ability will qualitatively improve the entire gameplay and help the heroes of Minecraft Bedrock Edition in the process of survival.
Use this feature to strengthen your combat skills, as well as get valuable resources faster. It is worth noting that this ability does not work with all items, so before proceeding to direct use, players should experiment with various options. Surprise others with a cool skill, use it in battles and not only.
How do I install this Dual Wield mod?

The file is in .mcaddon extension, so just tap on the file to automatically install the modification.

Can this mod be run in a multiplayer game?

Yes, for this it is enough just to be the owner of the map and install this modification on it.

What if the mod does not work?

Try to activate the experimental game mode.
Download Dual Wield Mod for Minecraft PE