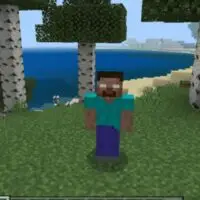 Herobrine Mod for Minecraft PE
Version MCPE: 1.14.0 - 1.20.41
Download
Download Herobrine Mod for Minecraft PE: Try to survive after meeting the most creepy and mysterious character in the history of the cubic world.
Herobrine Mod for Minecraft Bedrock Edition
There are many legends about a character named Herobrine among Minecraft PE users. Some say that he is just a mistake, others that this is the revenge of one of the creators of the game. In any case, after installing the Herobrine Mod, players will have to face this creepy monster face-to-face.
By the way, outwardly it is almost impossible to distinguish him from Steve. Only white eyes give out a creepy creature, after seeing which players can be sure that nothing good is waiting for them.
Experience
Create yourself a creepy monster that can shoot lightning and burn everything around, as well as infect residents, the authors of this update for Herobrine Mod offer players.
To begin with, craft a totem and place it in the center of a special sanctuary, in a few seconds, this terrible mob will appear. This update for Minecraft Bedrock Edition is presented in several versions: with and without a beard, as well as with glowing eyes and with a long beard.
Rebirth
This time, you do not need to craft anything to summon a creepy monster. It is enough to use the command /summon iron_golem or open the Inventory in Creative mode. After a creepy creature appears in Minecraft PE, the player will need to constantly fight in order not to die.
It is worth noting that, as in the previous update of Herobrine Mod, here the mob also has incredible and very dangerous abilities.
Walzzyjrs Herobrine
Another update on this topic for Herobrine Mod. It introduces a new character to Minecraft PE, who has a health reserve equal to 1000 units.
But if the player still manages to defeat him, then he will get a very good and cool loot. By the way, the monster can summon additional creatures to help him.
How do I install this Herobrine mod?

The file is in .mcaddon extension, so just tap on the file to automatically install the modification.

Can this mod be run in a multiplayer game?

Yes, for this it is enough just to be the owner of the map and install this modification on it.

What if the mod does not work?

Try to activate the experimental game mode.
Download Herobrine Mod for Minecraft PE