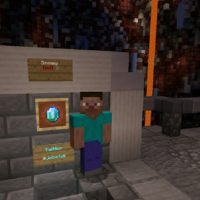 Snowy Survival Map for Minecraft PE
Version MCPE: 1.8.0 - 1.19.63
Download
Download Snowy Survival Map for Minecraft PE: the most beautiful locations where players are waiting for difficult challenges and many dangers.
What is interesting in Snowy Survival Map?
One of the most difficult tests to pass is considered to be those where the terrain is characterized by a cold and harsh climate.  These are the conditions prepared for the players by the creators of Snowy Survival Map.
The heroes will have to find certain items and finish the construction of the monument, while they will have to fight with a lot of mobs. You can also try your hand at a mini-game where Minecraft PE users can find out together with friends who is the bravest and most experienced player.
Each test will be very difficult, but at the same time it will differ in incredibly interesting gameplay.
Snowy Hell
The main purpose of this update for Snowy Survival Map is that the player must find 4 blocks of wool and install them in a certain place. But it will be extremely difficult to do this, because there will be whole crowds of aggressive creatures on the way.
In addition, the surrounding area can hardly be called hospitable. It is also worth noting that the developers managed to create very beautiful landscapes that will amaze Minecraft PE players with their uniqueness.
DeathRun
This time, the authors of Snowy Survival Map have prepared a mini-game for players that can be played by several Minecraft PE users at once. There are 2 options of acting roles to choose from. First of all, these are runners who will have to avoid the trap and try to get to the end.
By the way, only the last survivor wins, so this time everyone will be on their own. The second variant of the characters is murderers. They just make sure that all the traps are turned on in time.
This location has wonderful graphics and interesting gameplay.
How to download Snowy Survival map?

Tap the file and open it in Minecraft PE.

Can I use this map with my friends?

Yes, the map can be used for a multiplayer game.

Can i use the map in the survival mode?

Yes, the map is suitable for the survival mode.
Download Snowy Survival Map for Minecraft PE