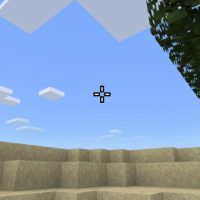 Crosshair Texture Pack for Minecraft PE
Version MCPE: 1.14.0 - 1.19.63
Download
Download Crosshair Texture Pack for Minecraft PE: add a new feature to the game and use it right now.
What is new in Crosshair Texture Pack?
There are many different updates in Minecraft PE almost every day. They change the appearance and textures of blocks and provide new opportunities for the hero.
Also, some add-ons can change mobs or even add new creatures that will help or fight with the hero. New updates are able to make the gameplay completely different from everything that was before.
New weapon elements appear in the game, which has additional features. This time, the authors of the Crosshair Texture Pack have changed the appearance of the icon that the player sees on the screen when holding a weapon.
More and Cool
The authors of this Crosshair Texture Pack update have given players the opportunity to choose from fifty different options. In order to do this, you need to go to the settings when creating the world and make a choice.
Then, already in the process of playing Minecraft PE, users can enjoy a new, unusual kind of icon that appears when the hero holds a weapon in his hands.
This addition makes a small, but the very interesting update to the gameplay. It is always so cool when something new and unusual appears.
Custom
The creators of this update for the Crosshair Texture Pack have also added new options for the appearance of the sight in Minecraft PE. There are only six of them, the player can choose from the usual cross-shaped icons or in the form of a dot, circle, and arrow.
Players can choose the appropriate option in the menu with texture pack tinctures, they can also change it there.
Such changes do not change the gameplay completely, but they are able to bring something new to it. Now every player has the opportunity to change something in the cubic world, to make it the way they want.
How to install these textures?

Download and open it in Minecraft PE.

Can I use it on servers?

Yes, you are free to use it on public servers.

Can this texture pack be run in a multiplayer game?

Yes, for this it is enough just to be the owner of the card and install this modification on it.
Download Crosshair Texture Pack for Minecraft PE