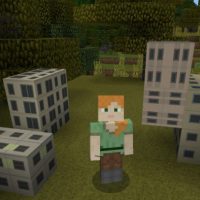 City Texture Pack for Minecraft PE
Version MCPE: 1.0.0 - 1.20.31
Download
Download City Texture Pack for Minecraft PE: see how mobs have changed, build your own skyscraper and try on new images.
What is City Texture Pack adds?
Create your own personal metropolis with roads and skyscrapers. With City Texture Pack, zombies and creepers will look like office workers. And the hero will have the opportunity to try on the image of a policeman, a football player, or an ordinary city dweller.
The world of Minecraft PE will become completely different.
Modern
A monotonous country landscape, even if very beautiful, can sometimes be annoying. That is why so many people tend to live in large megacities.
The developers have created the City Texture Pack, which adds not quite familiar elements to the world of Minecraft PE. All blocks and items have been modified so that players can create a completely modern city.
But not only objects have changed their appearance, even mobs will look like office workers. Creepers and zombies are dressed in jackets and ties, and villagers generally look more like secret agents.
By the way, the update is made in excellent resolution, which allows you to get a detailed drawing of blocks and objects.
City Life
In this modification for the City Texture Pack, the heroes will have a large selection of new items and armor. But now they have changed and look like attributes of urban life.
For example, instead of golden armor, the heroes will have access to a player in a football uniform, and instead of a diamond one, a uniform of the policeman will appear in the game. By the way, users can try on a hoodie, jeans, a business suit, and even a special forces uniform.
Naturally, the bows and swords familiar to Minecraft PE are not suitable for urban residents. Therefore, the hero can use items such as a baseball bat, guitar, knives, and even a smartphone.
Mini
But if the user wants not just to try on the image of a city dweller, but also to build his own metropolis, there is also such an opportunity. Now all the blocks in Minecraft PE have been changed to miniature parts of houses and skyscrapers.
Also in this update for the City Texture Pack, there are roads, pools, and balconies to make the houses look just like real ones.
How to install these textures?

Download and open it in Minecraft PE.

Can I use it on servers?

Yes, you are free to use it on public servers.

Can this texture pack be run in a multiplayer game?

Yes, for this it is enough just to be the owner of the card and install this modification on it.
download anchor
Download City Texture Pack for Minecraft PE