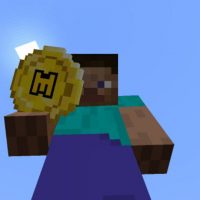 Gold Coin Texture Pack for Minecraft PE
Version MCPE: 1.2.0 - 1.20.31
Download
Download Gold Coin Texture Pack for Minecraft PE: use the new money to buy goods from villagers.
What is interesting in Gold Coin Texture Pack?
In the world of Minecraft PE, emeralds are the main currency, but many users have long dreamed of having them replaced with something more modern. The authors of the Gold Coin Texture Pack figured out how to solve this problem and replaced these gems with coins.
Now it will be easier and more convenient for players to make purchases from villagers, and it will also be possible to decorate their homes with new blocks or even mountains of precious metal ingots.
All new items will be available in the Creative Mode Inventory and can be used now.
Coins
The modern world cannot be imagined without money. At the same time, Minecraft PE still did not have an internal currency that would allow players to buy goods and services in the village.
It was necessary to go through a complicated process: find a deposit, extract emeralds and only after that get the opportunity to purchase everything you need.
With the help of the Gold Coin Texture Pack, players will have beautiful yellow money with a large letter M. They are great for trade and will be a wonderful decoration of the home.
Riches
For those players who want to create a real treasure trove or treasure vault, this update for Gold Coin Texture Pack is perfect. The authors have replaced some mobs with whole mountains of valuable stones:
creeper – a pyramid of gold;
zombie mountain of iron ingots;
skeleton – emeralds;
skeleton-desiccant – diamonds.
It is worth noting that all the new items look very realistic and will create the necessary atmosphere in Minecraft PE. Each player will be able to become a real rich man and get huge resources at his disposal. Decorate your home and live surrounded by luxury and wealth.
What if the texture pack does not work?

Try to activate the experimental game mode.

Can I use it on servers?

Yes, you are free to use it on public servers.

How do I install this texture pack?

The file is in .mcpack extension, so just tap on the file to automatically install the modification.
download anchor
Download Gold Coin Texture Pack for Minecraft PE