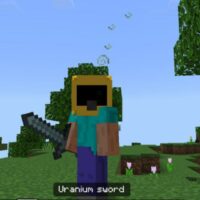 Nuclear Mod for Minecraft PE
Version MCPE: 1.14.0 - 1.20.41
Download
Download Nuclear Mod for Minecraft PE: arrange powerful explosions in the cubic world, and explore the possibilities of new blocks and explosive objects.
Nuclear Mod for Minecraft Bedrock Edition
As players in Minecraft PE know, there is an explosive TNT block that can be used to destroy space for building or creating dungeons or mines.
But for many heroes, the power of the explosion does not seem to be enough. And I also want to try something new and unusual. Nuclear Mod, which offers a wide variety of explosive and toxic devices, will come to the rescue in this situation.
Simple Nuke
In this update for Nuclear Mod, a real nuclear bomb is offered, which has a huge destructive power. The maximum detail of the device allows you to make the process of use very realistic and interesting.
Just climb up into the sky, holding this unique object in your hands, set it on fire with a lighter, and drop it down. It is worth warning the heroes that the destructive force in Minecraft Bedrock Edition will be so strong that it will destroy literally half of the cubic world.
C4
This time, the author of the Nuclear Mod add-on replaced the creeper with a new installation with an explosive effect. Accordingly, players can try to find these updated mobs in survival mode or spawn them themselves from the Inventory of the Creative Mode.
The powerful consequences of the explosion will cause damage to everyone who happens to be nearby. So Minecraft PE players should check everything in advance on unnecessary objects.
Nuclear
Another variant of the supplement in this topic offers Minecraft PE players a variety of devices for creating explosions and various man-made disasters.
The Nuclear Mod kit includes not only blocks but also various devices. As well as weapons and armor. In general, this is a complete set that can be used not only alone but also together with friends.
How do I install this Nuclear mod?

The file is in .mcaddon extension, so just tap on the file to automatically install the modification.

Can this mod be run in a multiplayer game?

Yes, for this it is enough just to be the owner of the map and install this modification on it.

What if the mod does not work?

Try to activate the experimental game mode.
Download Nuclear Mod for Minecraft PE