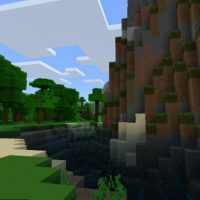 Ray Tracing Texture Pack for Minecraft PE
Version MCPE: 1.16.0 - 1.20.31
Download
Download Ray Tracing Texture Pack for Minecraft PE: take the opportunity to completely change the impression of the gameplay.
What is interesting in Ray Tracing Texture Pack?
Minecraft PE users often lack reality in the cubic world. Therefore, the developers are working hard, creating new updates for their favorite games every time.
With the Ray Tracing Texture Pack, players will be able to get into an incredibly realistic space. Thanks to special technology, it seems that the hero is in a completely different world.
The cubic world will never be the same, changes are already available to every player. Just download the update and create a new, amazing story.
RealSource
The world of Minecraft PE has never been particularly realistic, mainly the emphasis is on improving the gameplay. But the author of Ray Tracing Texture Pack decided to change the visual component of the game.
Thanks to the ray-tracing method, the game space has become more realistic. Many items have received great detail and this can greatly change the quality of the game.
The rich environment and improved textures make the game more vivid and colorful. Everyone wants to linger in this wonderful world. It inspires users to create something new.
Smoolistic RTX
Textures change everything around, but especially the change in lighting is noticeable. It seems that the hero is in a completely real world, and not in the Minecraft PE game space.
During the day, the rays of the sun penetrate through the crowns of the trees, illuminating the grass under them, it looks wonderful.
This is really amazing because Ray Tracing Texture Pack changes the attitude of all objects in the cubic world. At any time of the day, the surrounding space looks amazing.
The developers have created an amazing and very beautiful world in which players will feel comfortable creating something new or exploring unexplored spaces.
How to install these textures?

Download and open it in Minecraft PE.

Can I use it on servers?

Yes, you are free to use it on public servers.

Can this texture pack be run in a multiplayer game?

Yes, for this it is enough just to be the owner of the card and install this modification on it.
download anchor
Download Ray Tracing Texture Pack for Minecraft PE