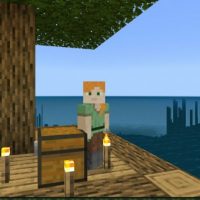 Sea Survival Map for Minecraft PE
Version MCPE: 1.16.0 - 1.20.31
Download
Download Sea Survival Map for Minecraft PE: the player will be surrounded by an endless ocean or lava and he will have to figure out how to escape from this island.
What is interesting in Sea Survival Map?
There are many films in which the main character will have a difficult test – to survive on a small island surrounded by an endless ocean.
The authors of Sea Survival Map have created an update for Minecraft PE, taking as a basis just such an idea. The bravest players will have to go straight into the depths of the ocean to find the necessary resources.
And for those players who find such a task too simple, there is another test option. Only instead of water, it will be surrounded by red-hot lava. Only the bravest players will be able to cope with all the difficulties and get to the mainland.
Survival
Minecraft PE currently provides players with the opportunity to explore an endless world. But on Sea Survival Map, players will be limited to a small island where a single tree grows and there is a chest with a small number of supplies.
There will be an endless ocean around this piece of land and the hero will have to find a way to survive in such conditions and get to land. Use all the resources, and look under the water for something that can help in this difficult task.
Lava Sea
Another survival option offers players this update. The hero will find himself on a small island, which will be surrounded by lava from all sides. Any careless movement may be the last.
This Sea Survival Map location is great for exploring with friends. Look for ways to move between pieces of land, on each of which you can get useful resources.
Minecraft PE players should use every opportunity to stay alive because in addition to the red-hot liquid, this area is fraught with many different dangers. Be careful and start an exciting adventure right now.
How to download Sea Survival map?

Tap the file and open it in Minecraft PE.

Can I use this map with my friends?

Yes, the map can be used for a multiplayer game.

Can i use the map in the survival mode?

Yes, the map is suitable for the survival mode.
download anchor
Download Sea Survival Map for Minecraft PE