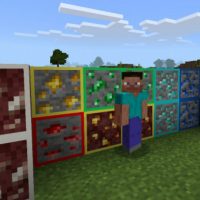 New Ore Texture Pack for Minecraft PE
Version MCPE: 1.16.0 - 1.20.15
Download
Download New Ore Texture Pack for Minecraft PE: go in search of valuable resources, because now it will be much easier to find them.
What is interesting in New Ore Texture Pack?
Many Minecraft PE users set out to find valuable resources. The authors of the New Ore Texture Pack decided to help players cope with this task.
Now it will be easier to find the blocks because they will be outlined with a special contour. This will help users quickly find them among other blocks. By the way, the very appearance of the blocks has also changed, the drawing has become clearer and drawn.
Outlined
This update for the New Ore Texture Pack can help players in finding valuable blocks in mines. The fact is that it is usually not so easy for a hero to see the presence of ore in a dark mine or cave.
The author came up with the idea to outline each of the blocks. Each block with valuable ores will be outlined in such a way that the player can immediately notice it among the stone blocks.
This can significantly reduce the time spent searching in Minecraft PE, now you do not need to spend hours looking for gold or diamonds. Each block of minerals will be outlined with a frame to match the ore itself. It is not only very functional but also looks very nice.
Variated
Developers are always trying to make changes to the world of Minecraft PE, thereby making it more interesting and unpredictable. Mobs change, the nature around, as well as the capabilities of the hero, new items are added to the Inventory.
This time in the New Ore Texture Pack there are not only the usual but also new texture options for blocks. Such changes allow players to introduce novelty into the gameplay and add unusual and interesting elements.
New
With this update for the New Ore Texture Pack, players have the opportunity to choose. At the time of the creation of the world in tinctures, the user can change the settings.
Two options are available: new ores with a more beautiful and drawn pattern and ores outlined. Each player now has the opportunity to influence exactly how valuable blocks will look in Minecraft PE.
Users can try each of the options and then choose the one that you like the most. This is a truly amazing opportunity.
How to install these textures?

Download and open it in Minecraft PE.

Can I use it on servers?

Yes, you are free to use it on public servers.

Can this texture pack be run in a multiplayer game?

Yes, for this it is enough just to be the owner of the card and install this modification on it.
download anchor
Download New Ore Texture Pack for Minecraft PE