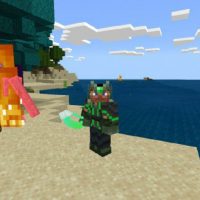 Mage Mod for Minecraft PE
Version MCPE: 1.0.0 - 1.20.32
Download
Download Mage Mod for Minecraft PE: explore the world of magic right now, fight with unseen creatures and find unique items.
What is new in the Mage Mod?
The world of magic has always attracted attention because it conceals many unexplored, mysterious, and interesting. The authors of Mage Mod offer players the to become real wizards.
Fight using staffs, put on a mantle and hat and get magical abilities in Minecraft PE right now.
Magical Staffs
To win a battle with the most dangerous opponents, players need to prepare well for them. Mage Mod can help them with this. He will add several new items to Minecraft PE that have various magical capabilities.
With their help, the hero can shoot fireballs, lift opponents into the air and teleport at any moment. By the way, it will be possible to learn how to summon fire and arrows.
Electroblobs Wizardry
Very easy to use, but at the same time, a reasonably large-scale update for Mage Mod offers players the to fully plunge into the world of magic. Exploring the surrounding space, you will be able to meet unprecedented birds and other creatures.
Fighting with them, Minecraft PE players will receive useful loot. You can also try on the image of a wizard, a king, or a necromancer. In the Inventory of the Creative Mode, players will find a lot of different staffs and other magical items.
More Skillful
This time, the authors have prepared 6 new types of weapons for the players, each of which has unique properties. For example, the blood scythe has a strength of 2000 units and can restore health.
Minecraft PE heroes will also be able to fight using a frosty dagger that stops all mobs within a radius of 10 blocks. By the way, in this update, a unique desiccation axe becomes available for Mage Mod. When using it, a desiccation effect will be applied to all mobs around.
How do I install this Mage Mod?

The file is in .mcaddon extension, so just tap on the file to automatically install the modification.

Can this mod be run in a multiplayer game?

Yes, for this it is enough just to be the owner of the card and install this modification on it.

What if the mod does not work?

Try to activate the experimental game mode.
download anchor
Download Mage Mod for Minecraft PE