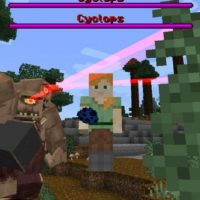 Cyclop Mod for Minecraft PE
Version MCPE: 1.17.0 - 1.19.83
Download
Download Cyclop Mod for Minecraft PE: try your hand at fighting terrible monsters, they have incredible sizes and a huge supply of health.
What is unique in the Cyclop Mod?
One-eyed monsters, known to everyone from ancient myths and legends, inspired fear in others and were distinguished by their great strength and anger. Now, in the vastness of Minecraft PE, players will be able to meet them and try their hand at fighting mythical creatures.
In Cyclop Mod, the authors have tried to fully recreate the image of bloodthirsty monsters who do not know what mercy is and will fight with everyone they meet on their way. These creepy creatures have a large reserve of health and incredible size.
Cyclop
To try your hand at fighting against an ancient mythical creature, Minecraft PE players should prepare well for it. Strong armor and powerful weapons must necessarily be in the arsenal of anyone who dares to meet him.
The fact is that the creature that will become available after installing the Cyclop Mod has a healthy reserve of 2100 units. He spawns meteorites and throws the victim away with his cry, thereby causing incredible damage.
You can summon a new monster with the help of a spawn egg, which players will find in the Inventory of the Creative Mode.
Dangerous Creature
Another option of terrifying monsters is offered to Minecraft PE players by the authors of this update. The one-eyed beast is characterized by incredible cruelty and will attack anyone who gets in its way.
The creature has two types of attacks: normal and laser. In the second case, a red ray will come out of his eye, destroying everything around him. The authors of Cyclop Mod have also added unique sounds for this mob to make the atmosphere more complete.
Only the bravest and most experienced players will be able to resist such a dangerous and treacherous opponent.
How do I install this Cyclop Mod?

The file is in .mcaddon extension, so just tap on the file to automatically install the modification.

Can this mod be run in a multiplayer game?

Yes, for this it is enough just to be the owner of the map and install this modification on it.

What if the mod does not work?

Try to activate the experimental game mode.
Download Cyclop Mod for Minecraft PE