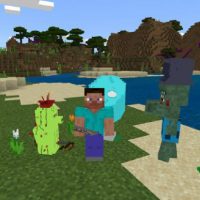 Plants vs Zombies Mod for Minecraft PE
Version MCPE: 1.16.0 - 1.19.83
Download
Download Plants vs Zombies Mod for Minecraft PE: protect the new inhabitants of the cubic world from the invasion of monsters and watch their spectacular confrontation.
What is new in the Plants vs Zombies Mod?
The popular game about the confrontation of flowers and the dead has reached Minecraft PE. Now users will have a great opportunity not only to observe the process of an unusual battle but also to participate in it.
The authors of Plants vs Zombies Mod have recreated many characters from the original story. All of them can be found in the Inventory of the Creative Mode. This is a great opportunity to diversify the gameplay and has great fun.
Plants vs Zombies
For all fans of the original story, the authors of Plants vs Zombies Mod have created a large-scale update. It includes the appearance of a large number of different plants in Minecraft PE.
It is worth noting that they are all animated. For example, sunflowers sway when they generate solar energy, and explosive cherries will leave a crater behind.
Interestingly, in addition to the main characters, various items will appear on the site. For example, a truck, a shovel, or a lawn mower.
More Features
This time, the developers did not limit themselves to adding colors and dead people, but also completely changed the entire interface of Minecraft PE. The start menu, control buttons, and even inventory will now correspond to the theme of the original story.
This gives the impression that the two games have combined to create a unique atmosphere for all cube world users.
Incredible graphics, animation, and unique mechanics of the behavior of all participants in the gameplay make this update for Plants vs Zombies Mod an ideal option for all players.
Grow live plants, try to resist annoying zombies, and boldly go through all the tests.
How do I install this Plants vs Zombies Mod?

The file is in .mcaddon extension, so just tap on the file to automatically install the modification.

Can this mod be run in a multiplayer game?

Yes, for this it is enough just to be the owner of the map and install this modification on it.

What if the mod does not work?

Try to activate the experimental game mode.
Download Plants vs Zombies Mod for Minecraft PE