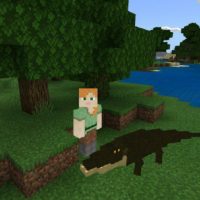 Crocodile Mod for Minecraft PE
Version MCPE: 1.9.0 - 1.20.32
Download
Download Crocodile Mod for Minecraft PE: meet new dangerous predators that will appear in all reservoirs of the cubic world.
What is unique in the Crocodile Mod?
There are quite a lot of dangers in Minecraft PE for the player and his pets. And not only on land but also underwater. The authors of Crocodile Mod offer players to add another dangerous predator to the reservoirs.
And not only a crocodile, but also its relative, the alligator. By the way, many different animals from all over the planet Earth will appear in the cubic world. Moreover, these will be not only predators but also birds and other interesting specimens of the animal world.
Alligator
Everyone knows that a meeting with an alligator in real life can end in severe injuries or even death. These animals are predators and attack anyone who dares to approach them.
The authors of Crocodile Mod have created realistic animation for them, which will certainly make the process of fighting more spectacular. Also, these new inhabitants of Minecraft PE have a healthy reserve of forty units.
Crocodile
This time dangerous predators will appear mainly in swamps. The authors of Crocodile Mod have provided three variants of these creatures, which will vary in size and how dangerous a meeting with them will be for the player.
These creatures are capable of eating any inhabitant of Minecraft PE from sheep to horses.
All World Animals
This time, the authors decided not to limit themselves to just one type of predator and added a large number of different creatures to Minecraft PE. Now it will be possible to meet lions, cheetahs, and hippos in the vastness of the cubic world. All of them will spawn naturally in survival mode, and in Creativity, they can be summoned with the help of spawn eggs.
This addition for Crocodile Mod is a great opportunity for all players to diversify the gameplay and get to know animals new to the cubic world.
How do I install this Crocodile Mod?

The file is in .mcaddon extension, so just tap on the file to automatically install the modification.

Can this mod be run in a multiplayer game?

Yes, for this it is enough just to be the owner of the map and install this modification on it.

What if the mod does not work?

Try to activate the experimental game mode.
download anchor
Download Crocodile Mod for Minecraft PE