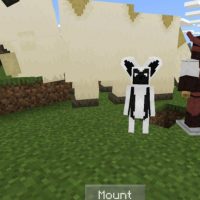 Avatar Mod for Minecraft PE
Version MCPE: 1.13.0 - 1.20.32
Download
Download Avatar Mod for Minecraft PE: meet incredible mobs that you can ride on horseback, as well as use a unique type of equipment.
What is unique in the Avatar Mod?
A magical world in which characters can control various elements served as the basis for the creation of Avatar Mod. In the original story, the heroes have to cope with various difficulties and save the world from threats.
Now it will be possible to arrange incredible adventures in Minecraft PE. Learn to control water, air, and fire with the help of a magic book and go on a journey riding an incredible animal.
Avatar
This update for Minecraft PE adds various items and magical creatures to the cubic world. A huge flying bison named Appa does not mind riding a player on his back and going on an exciting journey with him.
In addition to him, players will also be able to get acquainted with Momo. This flying lemur is the best friend of the main character in the cartoon. It is believed that these creatures are extinct, so you should handle them very carefully.
For the player to be protected from all kinds of threats. In Avatar Mod, it is proposed to use Fire Armor. This equipment has unique properties and will be useful to players during battles.
Magic Abilities
This update for Avatar Mod will help you learn how to control 4 elements. After installation, players will be asked to familiarize themselves with all the features using the magic book.
Players can choose any of the options. For example, get immunity to lava and the ability to shoot fire. An air mage will not receive damage when falling. A Water mage will be able to cause a flood and breathe freely underwater without any additional devices.
If the Minecraft PE hero chooses the element of the Earth. He will not receive negative effects from the blocks and will even be able to control the soil.
How do I install this Avatar Mod?

The file is in .mcaddon extension, so just tap on the file to automatically install the modification.

Can this mod be run in a multiplayer game?

Yes, for this it is enough just to be the owner of the card and install this modification on it.

What if the mod does not work?

Try to activate the experimental game mode.
download anchor
Download Avatar Mod for Minecraft PE