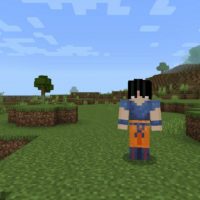 Dragon Ball Mod for Minecraft PE
Version MCPE: 1.16.0 - 1.20.32
Download
Download Dragon Ball Mod for Minecraft PE: use special stands to get unique skills and use them in battles.
What is unique in the Dragon Ball Mod?
The world of anime and manga is very diverse and includes many unusual characters. Dragon Ball Mod will create a unique atmosphere in cubic space and allow players to use unique effects.
Start a new adventure story in Minecraft PE right now. Watch the evolution of new creatures and try to defeat them. Explore new opportunities to use them in the process of survival.
Goku and Vegeta
This update will add two new characters to the game at once. They are based on famous anime. Moreover, these creatures will evolve and go through several stages, from the weakest to the incredibly strong.
After their appearance in Minecraft PE, the creatures will not fight, but as soon as their stage changes to Sayajin, their strength will noticeably increase. For example, they can easily cope with Warden or Wither. At the same time, the health level will reach 3000 units.
After each subsequent transformation, the Dragon Ball Mod characters will become twice as strong each time. The latest mode will give them incredible reserves of strength and health.
Of course, it will be possible to see large-scale battles that will amaze the heroes with their entertainment.
Dragon Ball Z
First of all, it is worth noting that this update for Minecraft PE will add a large number of new characters to the cubic world. All of them are based on manga of the same name. The developers also provide players with the opportunity to use special stands.
You can get them in the Dragon Ball Mod using the /function stand command. There are 9 options to choose from, each of which will give the player a certain effect.
Use them in the fight against new enemies and plunge into the world of famous history.
How do I install this Dragon Ball Mod?

The file is in .mcaddon extension, so just tap on the file to automatically install the modification.

Can this mod be run in a multiplayer game?

Yes, for this it is enough just to be the owner of the card and install this modification on it.

What if the mod does not work?

Try to activate the experimental game mode.
download anchor
Download Dragon Ball Mod for Minecraft PE