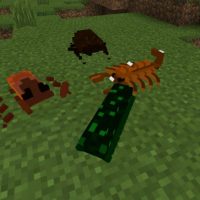 Cockroach Mod for Minecraft PE
Version MCPE: 1.13.0 - 1.20.32
Download
Download Cockroach Mod for Minecraft PE: meet new inhabitants of cubic space, but be careful, because some of them will be extremely dangerous.
What is unique in the Cockroach Mod?
Players can diversify the gameplay in Minecraft PE in different ways. For example, add new biomes, blocks, or items. But the most exciting thing is to observe unusual creatures that have never appeared in the vastness of the cubic world before.
The authors of Cockroach Mod did not limit the appearance of only one insect species. Now players will meet a lot of creeping and flying creatures on their way.
Insects
This addition for Cockroach Mod includes the appearance of various types of insects. Some of them can be tamed simply by feeding. For example, this is how ladybugs will behave. After they receive a treat, they will fly everywhere for the player.
Flies and worms will also not cause any harm to the Minecraft PE hero, but scorpions and scarabs will be pretty dangerous when they meet.
Fauna
After installing this update for Cockroach Mod, players will meet different insects on their way. Fireflies will live in warm biomes. They glow in the night and players can try to catch one of them in a bottle.
Dragonflies will appear on marshes and in flat terrain. Use the leash to catch them. Also, mosquitoes are now found in these places. But Minecraft PE players should be more careful with them because they can take experience.
This mod also adds crows, raccoons, and geese.
Arthropods
Throughout the game world, players can meet ants, these insects are aggressive and can even attack other mobs if they feel in danger.
Besides them, after installing Cockroach Mod, butterflies in five different colors and earthworms will appear in the game world. The real luck will be to meet a praying mantis in Minecraft PE, this creature will be less common than others.
How do I install this Cockroach Mod?

The file is in .mcaddon extension, so just tap on the file to automatically install the modification.

Can this mod be run in a multiplayer game?

Yes, for this it is enough just to be the owner of the map and install this modification on it.

What if the mod does not work?

Try to activate the experimental game mode.
download anchor
Download Cockroach Mod for Minecraft PE