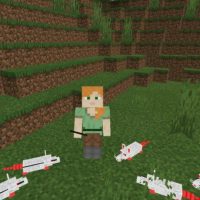 Rats Mod for Minecraft PE
Version MCPE: 1.11.0 - 1.20.15
Download
Download Rats Mod for Minecraft PE: try to tame these rodents, as well as meet other real and fictional creatures.
What is interesting in Rats Mod?
To diversify the standard set of animals in Minecraft PE, Rats Mod offers all players. The main characters of which, of course, were rodents familiar to everyone. They will be presented in several color options.
Creatures new to the cubic space can be tamed or get a drop with it in the form of a piece of meat that can be cooked later on fire. In addition to rats, players will also get acquainted with other creatures, some of which will look extremely unusual.
Get to know them right now and have fun in the company of incredible creatures.
Multicolored Rats
This update adds 4 rodent variants to Minecraft PE at once. Players can choose a gray, white, black, or brown pet. The mechanics of interacting with these creatures in Rats Mod are very simple.
If the hero attacks them, they defend themselves and can inflict damage of 3 units, if you pass by them, they will simply run away. Another option for interaction is to tame an animal. In this case, it will become an excellent defender of your home.
By the way, the animals make quite realistic sounds when approaching them, and you can only meet them at night.
New Animals
In this update for Rats Mod, players will get acquainted not only with rats but also with other animals and birds. Rodents are presented in several color variants and if a Minecraft PE player creates them himself, then each time the shade will change.
Up to twenty new inhabitants will appear in the cubic space, among them will be raccoons, rabbits, turtles, and bears. As well as some fictional creatures. For example, Ents that look like big walking trees.
Most of them are quite neutral towards the player, but some will be dangerous if approached, for example, wild boars.
How do I install this Rats Mod?

The file is in .mcaddon extension, so just tap on the file to automatically install the modification.

Can this mod be run in a multiplayer game?

Yes, for this it is enough just to be the owner of the card and install this modification on it.

What if the mod does not work?

Try to activate the experimental game mode.
download anchor
Download Rats Mod for Minecraft PE