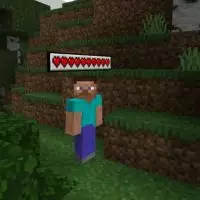 Heath Bar Mod for Minecraft PE
Version MCPE: 1.16.0 - 1.20.32
Download
Download Health Bar Mod for Minecraft PE: track the health level of any mobs and learn about the approach of enemies.
What is unique in the Health Bar Mod?
With this add-on, players will have the opportunity to monitor the health level of absolutely any creatures that inhabit Minecraft PE. Starting with a cow or a pig and ending with a Creeper or an invincible Warden.
Now the heroes will be able to accurately calculate the strategy of fighting or manage to escape in time if the enemy has too much strength. Health Bar Mod will also add a new indicator in the form of hearts over the heads of all players. This is especially useful in multiplayer mode.
Mobs
The mob health indicator will appear on the screen as soon as the player approaches it. It looks like a purple stripe at the top of the screen and also includes the name of the creature. The more creatures surround the player, the more stripes there will be.
Thus, the Minecraft PE player will not only be able to track the level of his opponent's forces and change the tactics of combat in time. Health Bar Mod will allow you to learn about the approach of enemies in time.
This is a great opportunity to always have complete information and adjust your actions depending on the situation. This update works on all inhabitants of the cubic world from chickens to Warden.
Players
For those players who prefer the multiplayer game mode, it will be useful to know about the health status of other heroes who are nearby. This addition to the Health Bar Mod will add a strip consisting of hearts over the head of absolutely all players on the field.
Now you can monitor the status of everyone around you and, depending on this information, make further decisions. Evaluate the possibilities of such an update for Minecraft PE right now and surprise everyone around with new knowledge.
How do I install this Heath Bar Mod?

The file is in .mcaddon extension, so just tap on the file to automatically install the modification.

Can this mod be run in a multiplayer game?

Yes, for this it is enough just to be the owner of the card and install this modification on it.

What if the mod does not work?

Try to activate the experimental game mode.
download anchor
Download Heath Bar Mod for Minecraft PE