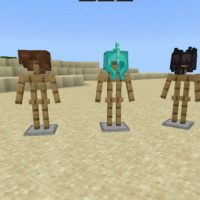 3D Helmet Mod for Minecraft PE
Version MCPE: 1.19.0 - 1.20.15
Download
Download 3D Helmet Mod for Minecraft PE: make the image of your hero unique and win any battle with ease.
What is interesting in 3D Helmet Mod?
Players know that in Minecraft PE six armor options help them in battles with dangerous mobs or other participants in the gameplay. Depending on the source material from which the equipment is created, its protective properties and strength also change.
The coolest set is considered to be from netherite because they have the highest possible indicators, as well as diamond. The author of the 3D Helmet Mod offers to improve the external characteristics of the armor and update one of its parts.
Variants
It is worth noting that the author of the 3D Helmet Mod has replaced only the appearance of helmets, while all protective indicators will remain unchanged. Also, the rest of the kit will not change in any way.
Each of the new items of equipment has unique details that make it interesting and unusual. For example, a piece of iron or chain mail will create an image of a medieval or ancient Greek knight.
The gold variant will make the Minecraft PE player look like an ancient deity because it has a beautiful shape with two horns. And if you wear an item from netherite that completely covers your face, you can remain unrecognized even among friends.
Of course, there is a diamond piece of equipment that has received a unique and refined appearance.
Opportunities
Updated items of equipment do not add any special properties to Minecraft PE players. But at the same time, wearing them, the hero will definitely not go unnoticed and will stand out coolly against the background of the other participants in the battle.
3D Helmet Mod is perfect for PVP battles, where every hero wants to be special and not like everyone else. Make your adventures in the cube world memorable and interesting right now.
How do I install this 3D Helmet mod?

The file is in .mcaddon extension, so just tap on the file to automatically install the modification.

Can this mod be run in a multiplayer game?

Yes, for this it is enough just to be the owner of the map and install this modification on it.

What if the mod does not work?

Try to activate the experimental game mode.
download anchor
Download 3D Helmet Mod for Minecraft PE