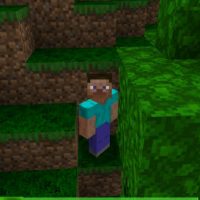 Baldi Basics Mod for Minecraft PE
Version MCPE: 1.19.0 - 1.20.15
Download
Download Baldi Basics Mod for Minecraft PE: try to fulfill your friend's request and collect all his notebooks without falling into the hands of dangerous creatures.
What is interesting in Baldi Basics Mod?
This update for Baldi Basics Mod is created entirely based on the game of the same name. According to the plot, the student needs to return to school to pick up some items.  He will be hindered in every possible way by a variety of characters ranging from the school principal and teacher to very unusual monsters.
Minecraft PE players can learn about the properties and weaknesses of opponents right now. In order to start exciting gameplay as soon as possible.
 Characters
Minecraft PE users who have played this game before will recognize familiar characters. The author of Baldi Basics Mod tried to create them as similar as possible to the original story.
For example, the Director is dressed in black and always punishes everyone who gets in his way. A mob named Playtime is constantly jumping on a rope, which he drops at death, and is looking for someone to play with.
The main character named Baldi has an evil expression on his face and walks with a ruler in his hands. By the way, this item can be obtained by defeating this mob and using it to gain more strength and speed.
Do not approach a large gray creature called Arts and Crafts. In fact, this is a revived craft that attacks everyone who approaches it. There are also very funny characters in this update, for example, Mrs. Pomp, who jumps around on her heels.
Items
Minecraft PE players will be able to buy various items in vending machines with the name BSODA. They will help slow down the work of any object or satisfy hunger.
Also in Baldi Basics Mod, you can find various options in the Inventory of the Creative Mode, for example, an eraser that makes the player invisible.
How do I install this Baldi Basics Mod?

The file is in .mcaddon extension, so just tap on the file to automatically install the modification.

Can this mod be run in a multiplayer game?

Yes, for this it is enough just to be the owner of the map and install this modification on it.

What if the mod does not work?

Try to activate the experimental game mode.
download anchor
Download Baldi Basics Mod for Minecraft PE