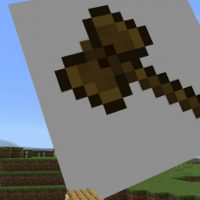 Primal Weapons Mod for Minecraft PE
Version MCPE: 1.19.0 - 1.20.15
Download
Download Primal Weapons Mod for Minecraft PE: use unique items in the process of survival, which have several important features.
What is interesting in Primal Weapons Mod?
Every user of Minecraft PE is faced with the question of choosing reliable and convenient items. That will help in protecting against evil monsters. The most popular at the moment is the sword. Indeed, this universal type of weapon has helped heroes in difficult situations more than once.
But in addition, you can also use axes, picks, or shovels. The authors of Primal Weapons Mod offer players several more options for defense and attack. They do not require expensive materials during crafting. But they are incredibly effective during combat.
Weapon options
In total, Primal Weapons Mod adds three types of weapons to the game. That has never been seen before in the cubic world. First of all, it's a spear. They can be made of stone or wood, the type of material used. Will depend on the damage inflicted – 6 or 5 units, respectively.
Convenience in use and always an excellent results will be obtained by Minecraft PE players who choose these items. In addition to copies, it is proposed to evaluate the capabilities of the halberd. Wooden or stone they are universal for users with any gaming experience. The final type is a battle axe.
All the characteristics of these items are the same and players can find them in the Inventory of the Creative Mode.
Opportunities
First of all, every Minecraft PE user must protect his life from the attack of dangerous monsters. And the items that Primal Weapons Mod adds to the game will perfectly help them in this matter.
Effective in battle and simple in the crafting process. They will help the heroes always be confident in their abilities and win any battles. Use weapons to attack opponents and not leave them a single chance to win.
How do I install this Primal Weapons mod?

The file is in .mcaddon extension, so just tap on the file to automatically install the modification.

Can this mod be run in a multiplayer game?

Yes, for this it is enough just to be the owner of the map and install this modification on it.

What if the mod does not work?

Try to activate the experimental game mode.
download anchor
Download Primal Weapons Mod for Minecraft PE