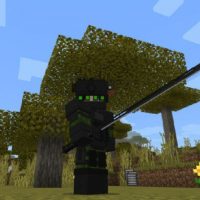 Military Equipment Mod for Minecraft PE
Version MCPE: 1.19.0 - 1.20.15
Download
Download Military Equipment Mod for Minecraft PE: make the process of battles in the cubic world as realistic and modern as possible.
What is interesting in Military Equipment Mod?
The choice of weapons in Minecraft PE has long ceased to satisfy the needs of players, which is why updates related to the topic of military equipment are increasingly appearing.
That is why the authors of Military Equipment Mod offer players the to evaluate a set of armor and other items with which each user can feel like a real warrior and win any battles.
New features
After installing the Military Equipment Mod, survival in Minecraft PE will become much more interesting and exciting. The fact is that the game will have several full sets of armor, each of which not only looks impressive but also has such cool characteristics that will allow the player to defeat any enemies.
To complement the image of the hero, you can use several options for melee weapons. They also received unique textures and excellent combat properties from the developers.
Equipment
The authors of Military Equipment Mod have created new armor elements so that every Minecraft PE user can feel like a modern warrior. Several variants of helmets and night vision goggles will not only protect the player's head but also allow you to see enemies even in the dark.
All new items are available in the Creative Mode Inventory and do not replace existing pieces of equipment, but are unique.
Weapon
Currently, in Minecraft PE, the choice of weapons is very small, so for defense and attack, players have to use tools such as shovels or picks, among other things.
Military Equipment Mod will help to correct this situation. Players will receive several new items, including a baton and a katana. And also the shield will help to repel the attacks of enemies.
How do I install this Military Equipment Mod?

The file is in .mcaddon extension, so just tap on the file to automatically install the modification.

Can this mod be run in a multiplayer game?

Yes, for this it is enough just to be the owner of the map and install this modification on it.

What if the mod does not work?

Try to activate the experimental game mode.
download anchor
Download Military Equipment Mod for Minecraft PE